Ceramic Paint Coating - Urban Auto Spa of Franklin Lakes offers Diamond Plate by Simoniz - a nano-ceramic polymer paint coating that is designed to give your vehicle a long term exterior paint protection.
Diamond Plate will effectively protect your vehicle against the following contaminants: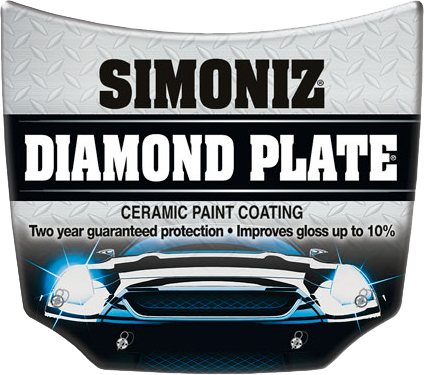 Acid rain
Bird droppings
Tree sap
Insects
Aerosol paint paint
Hard water spots
Accidental paint over spray from newly painted road lines
Road de-icing materials and exposure to the sun causing fading, chalking, and loss of gloss

Your vehicle paint finish will have a higher gloss and smoother slick finish with a Diamond Plate application. A water repelling hydrophobic layer will be created once the product is applied. This is the most advanced technology in automotive protection and its backed by a Simoniz 2 year paint protection warranty.
Each Simoniz Diamond Plate service at Urban Auto Spa includes the following:
Exterior Detail service w/ clay bar treatment
Free application of Vision Blade – a hydrophobic windshield protection application
Simoniz Diamond Plate nano ceramic polymer paint coating
Simoniz 2 year paint protection warranty
$595 + tax
Call 201-560-1144 to schedule an appointment. Plan to leave your vehicle for 1 day. Our Franklin Lakes facility is open from 8am – 6pm.
Your vehicle needs to be dropped off between 8-9am for this service. We also offer an overnight/early bird drop off box at the entrance of our detail shop.